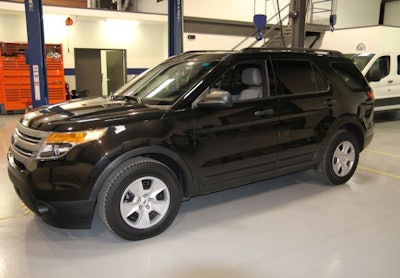 Alliance AutoGas' equipment vehicle platform developer BSI has announced the development of the Bi-Fuel Propane Autogas Ford Interceptor as a vehicle option for law enforcement. BSI offers diverse offerings to the law enforcement community with current EPA certifications for the Dodge Charger, Chevrolet Tahoe, Ford Crown Victoria, F150, and now the Interceptor.
The bi-fuel system conversion on the Interceptor is precedent setting in that no intake manifold drilling, cutting, or splicing of wiring is required, according to the company. The plug-and-play conversion will be designed to offer an additional 21 gallons of useable fuel and offer no comprises to the vehicle's current safety or operational benefits.
The Bi-Fuel Propane AutoGas Ford Interceptor will be available this spring.
For further information on Alliance AutoGas contact David Finder, National Energy Programs Manager for Blossman Gas at 828.251.0027 or dmfinder@blossmangs.com or go to www.allianceautgas.com.
About Alliance AutoGas (AAG) and Blossman Services Inc. (BSI)
Alliance AutoGas (AAG) is managed by its parent company Blossman Gas Inc. Alliance AutoGas and its extended partners is comprised of more than 100 independent propane marketer and authorized conversion center members in 48 states plus Canada. This group of members is aligned to provide propane autogas for vehicles and lawn care companies throughout North America. Blossman Services, Inc. (BSI),a subsidiary of Blossman Gas Inc., is the equipment distributor for Alliance AutoGas. BSI is the exclusive United States distributor of Prins Autogas products and the Manufacturer of Record (MOR) for EPA and CARB certifications on behalf of Alliance AutoGas and its members.