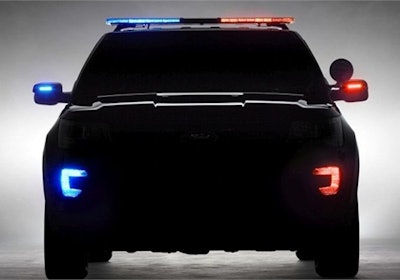 Ford will unveil a redesigned version of its Police Interceptor Utility at the Chicago Auto Show on Feb. 12, Ford has announced.
The vehicle is expected to be based on the 2016 Explorer that debuted at the Los Angeles Auto Show in November. Ford updated its mid-size SUV by giving it a more rugged look and adding a 2.3-liter EcoBoost engine to replace the former base 2.0-liter engine.
The vehicle will arrive at a time when many law enforcement agencies have shifted to an SUV from a sedan for patrol duties. The Police Interceptor Utility has become America's top-selling patrol vehicle, taking a distinction once held by Ford's Crown Victoria Police Interceptor.
Ford first introduced the pursuit-rated SUV in September 2010, following the introduction of the Police Interceptor sedan in March of that year.