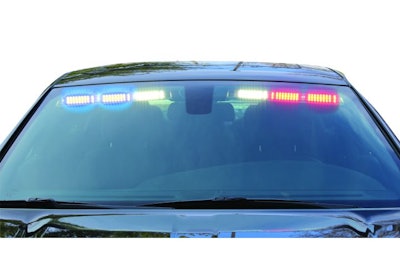 Code 3 Inc. has introduced the SuperVisor Flex, an updated version of Code 3's front windshield interior light, the SuperVisor U. The Flex is available in Torus MultiColor (18-up) and single color (9-up) lightheads. The SuperVisor Flex is sleekly designed to fit the windshield curves and angles of most vehicles. The adjustable side-shield plates have been designed specifically to block out flashback light from the sides while the lightheads are situated to project light straight ahead.
Smartly designed bracketing and rubber gaskets allow this two-part (one on driver's side and one on passenger's side) interior light to be mounted on almost any vehicle. Available in two models, sedan and light truck/SUV, the Flex features ease of installation with a quick-disconnect center connector cord.
Designed with the latest Torus LED technology, the SuperVisor Flex features bright, efficient LEDs and independent flashing lightheads that go from stealth to a wealth of light in an instant.
The SuperVisor Flex comes in both full windshield and passenger side only models. Standard MultiColor models allow all the lightheads to turn to full takedown mode. A full complement of bracketry is provided to ensure that the Flex will fit your vehicle.
For more information, visit code3esg.com or call Code 3 Customer Service at (314) 426-2700.
Established in 1974, Code 3 Inc. designs and manufactures a complete line of emergency lighting and warning products for police, fire, emergency response, utility and industrial applications in St. Louis, Mo. Code 3 Inc. is a division of ESG.