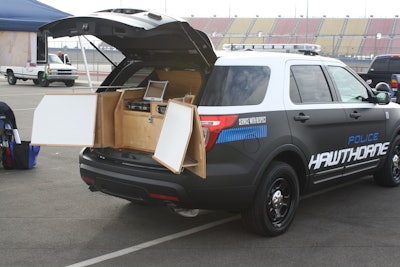 Tactical Command Cabinets LLC has designed and engineered the new EX2240 watch commander tactical command board for incident command situations involving fire, police, EMS, and other public works vehicles. Complete with vertical incident command boards, now your agency can have a board on each side of the command area—even room for a horizontal pullout if needed.
These tactical command boards allow your agency to have more options and, depending on the incident, switch out boards as needed. Tactical Command Cabinets conveniently recesses the docking station to reduce equipment clutter.
Tactical Command Cabinets' new tactical command post, the EX2240 Watch Commander, has a lighter weight than metal cabinets. And like most of the company's public safety cabinets, it is available with the optional extremely durable, tough LINE-X finish.
Tactical Command Cabinets designs new storage solutions for your agency's SUV. Since the Crown Victoria days are ending and a new era has begun, the new SUV packages come with advantages and challenges. MDC units, white boards, and weapon storage can be utilized with multiple drawers. That allows flares, scene tape, gloves, and less lethal weapons to have a place.
Whatever may be your SUV storage challenges, Tactical Command Cabinets has your solution. Without a storage solution, most equipment ends up in a pile. And in addition to great options for your agency's SUV, the company has product lines for patrol units, supervisor cars, and watch commander vehicles. Command post cabinets are available with a wood finish or an extra durable LINE-X formulated polymer coating. Tactical Command Cabinets products are proudly made in the USA.