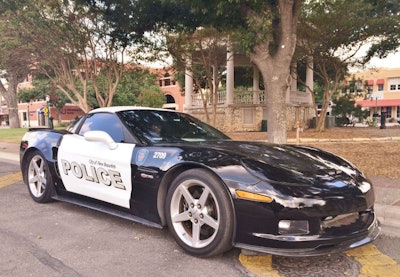 The New Braunfels (Texas) Police Department is rolling out the sleekest member of its vehicle fleet: a seized 2007 Chevrolet Corvette Z06 named "Coptimus Prime" that previously belonged to a San Antonio-based drug trafficker with Mexican cartel ties.
Agents with the U.S. Drug Enforcement Administration and the Comal County Metro Narcotics Task Force, which includes the police department, seized the Corvette during a 2011 raid on a methamphetamine trafficking cell linked to the Mexican drug cartel La Familia Michoacana.
New Braunfels PD was awarded the sports car under a federal program that allows police departments to repurpose assets seized in criminal investigations.
Despite the vehicle's ability to reach top speeds of more than 190 mph according to TopSpeed.com, the Corvette won't be used as a patrol car, department spokesperson David Ferguson told mySA.com during a phone interview Wednesday. The sports car is too high profile for patrol use or undercover work, he said.
That doesn't mean the department won't show it off: the Corvette has been wrapped to look like a police patrol unit and will be used as a community outreach tool at school functions and local parades as a means to drum up youth interest in law enforcement.