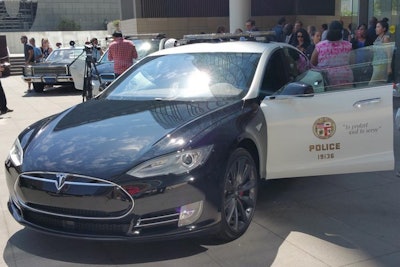 The Los Angeles Police Department recently showed off a Tesla Model S P85D and a BMW i3 as the newest members of its police car fleet in the name of "testing and research." The two high-end automobiles are being loaned to the LAPD and were unveiled as part of the announcement of a broader plan to bring 288 new electric and hybrid vehicles to Los Angeles' city-owned fleet.
On Friday, Mayor Eric Garcetti announced that the Los Angeles police, fire, general services, and water and power departments will lease 160 pure battery electric vehicles; and the Los Angeles Department of Water and Power and General Services Department will lease 128 plus-in hybrid vehicles, Digital Trends reports.
"This year, Los Angeles will become home to the largest city-owned fleet of pure battery electric vehicles anywhere in the country, and we will save taxpayer dollars along the way," Garcetti said.