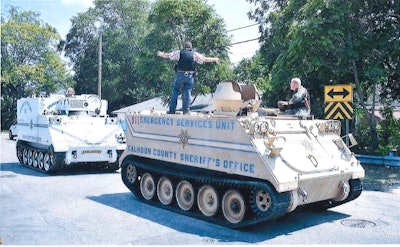 Calhoun County, AL, Sheriff Larry Amerson says his department is returning its tracked armored vehicles because of new federal guidelines from the Obama Administration, reports al.com.
The tracked vehicles, which are armored but have no artillery or weapons, were acquired in 2004 through the federal 1033 program, which transferred excess military equipment to civilian law enforcement agencies at no cost - only shipping and handling fees.
In a statement, Amerson said losing the vehicles will make both police and the community less safe.
"The absence of these vehicles poses a serious threat to law enforcement and citizens if we were to face another active shooter incident," he said.