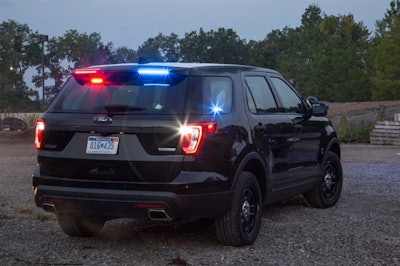 Ford is debuting Rear Spoiler Traffic Warning Lights to complement the "no-profile" Front Interior Visor Light Bar on Police Interceptor Utility. The feature integrates bright LED lighting into the vehicle's rear spoiler, providing law enforcement with a highly effective tool to alert drivers of emergency roadside situations while affording officers full visibility out the rear window. When deactivated, the lighting is difficult to detect for someone approaching the vehicle from the rear.
"Aftermarket light bars can impede visibility by hanging down over the glass," said Stephen Tyler, Ford police brand marketing manager. "Our fully programmable Rear Spoiler Traffic Warning Lights are integrated into the spoiler, so agencies get their bright red, blue and amber LEDs with no compromise to rear visibility."
Aftermarket products mount inside or outside the glass then extend into the rear window – impeding visibility. Ford's warning lights free up that space for unimpeded rearward vision.
The option complements Ford's "no-profile" Front Interior Visor Light Bar, a covert feature that provides a similar improvement in forward vision over aftermarket options.
When activated, the new warning lights flash alternating bright red and blue bars in the rear spoiler; they can also be programmed for red/red, blue/blue or amber operation, providing drivers with directional signaling information. An auto-dimming capability can be programmed from full intensity down to 20 percent.
"Together with our front visor light bar, Rear Spoiler Traffic Warning Lights offer a fully integrated solution for agencies wishing to minimize the presence of their police vehicles," said Arie Groeneveld, chief program engineer, Ford police programs. "While signaling to drivers of an upcoming emergency situation, it constitutes a clear safety benefit for officers and the public."
The feature can be ordered now for the 2017 Police Interceptor Utility. As with all Ford-provided police vehicle options, Rear Spoiler Traffic Warning Lights come with a limited factory warranty.
For more information on Ford's police vehicle portfolio, visit the Ford Police Interceptor site.