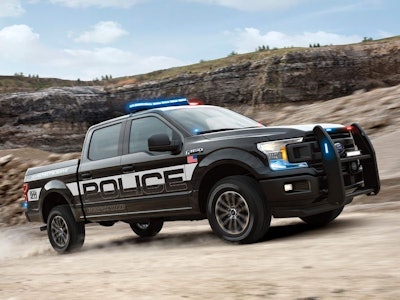 Ford Motor Co. is rolling out the industry's first pursuit-rated pickup for law enforcement.
The 2018 F-150 Police Responder, expected on the road by next 2018, adds off-road capability and more utility to Ford's lineup of police vehicles.
There's demand across the country for a bigger, more capable police vehicle, according to Stephen Tyler, Ford's police brand marketing manager. Agencies like the U.S. Border Patrol, U.S. Fish and Wildlife Service, sheriff's departments and tribal police told Ford they needed off-road ready vehicles.
The F-150 Police Responder is based on the F-150 FX4 off-road model, and comes standard with that model's 3.5-liter EcoBoost V-6 and a 10-speed transmission. The engine cranks out 375-horsepower and 470 pound feet of torque, which Ford says is more than any pursuit-rated police vehicle.
The Police Responder gets stronger brakes, an upgraded front-stabilizer bar for better handling, 18-inch wheels with all-terrain tires, and underbody skid plates, the Detroit News reports.