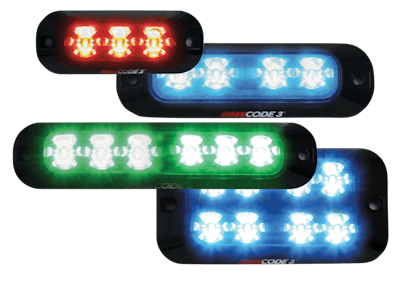 Code 3 Inc., a leading manufacturer and developer of light and sound emergency products, has announced the launch of the new XTP Series of directional lights.
The XTP Series packages style, versatility, and the capabilities of a high-performance light into a compact, sleek design at a fraction of the cost. The waterproof, compact size of the XTP Series allows it to be mounted virtually anywhere on the inside or outside of a vehicle including: grilles, mirrors, push bumpers, fog lights, license plates, trunk lids, and windows. XTP models are available in single, split, or multicolor. Models can be dimmed and each unit operates at a low current draw.
"Each XTP model comes with multiple flash patterns, have controllable light output, and are IP67 rated making it the ultimate exterior light for any emergency vehicle," said Terry Drane, product manager, Code 3.
The XTP comes in four models including: XTP3, XTP4, XTP4DS, and XTP6. Each model has a depth of 0.6 inches. Configurations are offered in: red, blue, amber, white, and green. The entire XTP Series meets SAE J595 Class 1, SAE J575, California Title 13, ECE Reg. 65, R10, RoHS, and are IP67 rated. All models come with a five-year warranty.
For more information, visit code3esg.com.