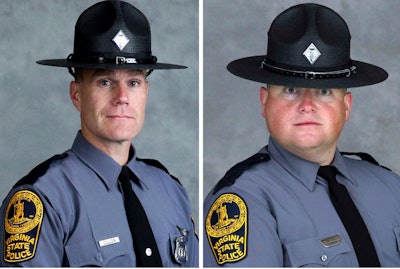 The police helicopter involved in a crash that killed two troopers near the chaotic events of Charlottesville, VA, over the weekend had previous mechanical problems that led to an extremely hard landing seven years ago, according to records from the National Transportation Safety Board, reports WTOP.
The helicopter, manufactured in 2000, was "substantially damaged during an emergency landing following an engine failure" in May of 2010 in Abingdon, Virginia, the NTSB said.
There were two troopers on board and neither was injured.
According to the NTSB, the troopers were on a training mission when they had to land so abruptly that "the helicopter bounced one time" before coming to rest in a field.
Eventually, the NTSB said the cause of the engine failure was "the improper repair of an engine component by a repair facility."
On Saturday, the two troopers on board the helicopter, Pilot Lt. H. Jay Cullen and Trooper-Pilot Berke M.M. Bates, died when they crashed seven miles southwest of the Charlottesville airport.
Related:
No Distress Call in Helicopter Crash That Killed 2 Virginia Troopers