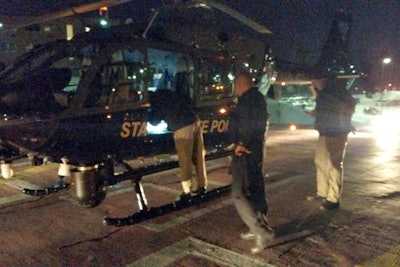 A Massachusetts State Police helicopter pilot lowered the skids of his aircraft into the icy waters of the Merrimack River Wednesday night during the "daring" rescue of an emotionally distraught man, a department spokesman said.
Lowell police and firefighters responded about 7 p.m. to a report of a person screaming in the river in the area of the Aiken Street Bridge, state police spokesman David Procopio said. There, firefighters located an emotionally distraught man who was sitting in "waist-deep, icy water," Procopio said.
Although police and fire crews launched two boats to rescue the man, Procopio told the Boston Herald they became disabled when their propellers were damaged by ice.
A state police helicopter piloted by Trooper John Hazelrigg and carrying Tactical Flight Officer Russ Phippen arrived on scene.
After flying to the victim, Procopio said, Hazelrigg flew so low that "the aircraft's skids were in the water" and Phippen "opened the door and, strapped in, hung outside the helicopter and grabbed the hypothermic victim, who was not moving on his own."