Havis Inc., a leading designer and manufacturer of in-vehicle mobile office solutions for mobile professionals, has announced a new, upgraded line of universal cradle solutions for a wide range of tablet and laptop models. The new generation of Havis universal cradles, which includes the UT-1000 Series, the UT-2000 Series, and the UT-301 Cradles, are made to be lighter yet still ultra-rugged and allow for more mounting options.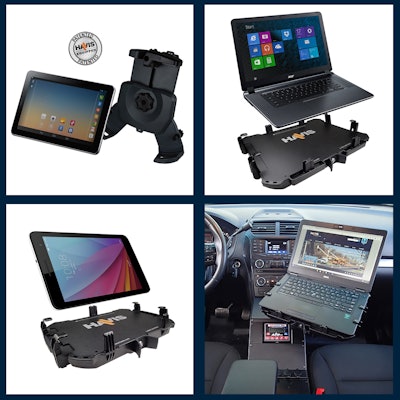 The new Universal Cradle line is made from high-performance, injection-molded materials and some feature a durable, powder coat painted top plate. The thin, low-profile design of the cradles maximizes mobile office space and enhances visibility. The rugged construction of the Havis Universal Cradles allows for longer service life and future redeployments, according to the company.
The UT-1000 Series adjusts to fit a wide variety of 11-inch to 14-inch (approximate) laptops and convertible devices, while the UT-2000 Series adjusts to fit a wide variety of 9-inch to 11-inch (approximate) tablets. The newly patented UT-301 can handle 7-inch to 9-inch (approximate) devices, as shown in this video: https://www.youtube.com/watch?v=p7prS18zi5E.
The Universal Cradles also feature:
Smooth glide functionality for easier stationing and removing of computing device for ultimate portability.
Rounded corners to add safety and minimize risk in potential accidents & airbag deployment.
Sliding hold-down lugs allow for flexibility and access to computing device ports and inputs.
Unique strain-relief holes provide organized cabling and secure connectivity of peripherals.
Enhanced security and safety with built-in locking mechanism for peace of mind against theft and uncradling.
The current Havis Universal Line can be combined with a broad selection of Havis mount and motion accessories for the ideal mobile solution. Havis Universal options allow use in most any mobile application including road vehicles, forklifts, carts, and more.
Havis offers online configurators to identify mobile office solutions by device or vehicle, and consultations with Havis representatives to guide customers through the process of building a safe and successful mobile office solution.
For more information on Havis' Universal Line of mounting and docking solutions, visit http://www.havis.com/catalog/Universal-51175-1.html or contact your Havis representative.