Tesla's all-electric Model S is becoming increasingly popular with police departments around the world. The Los Angeles Police Department and the Denver Police Department are both using Tesla vehicles, and Scotland Yard is also considering it. The Luxembourg police also announced that they will be using the Tesla Model S and have started fitting them with police equipment, reports Electrek.
They reportedly took delivery of two Model S vehicles in September and they have since been modifying them to comply with their requirements, according to Luxemburger Wort.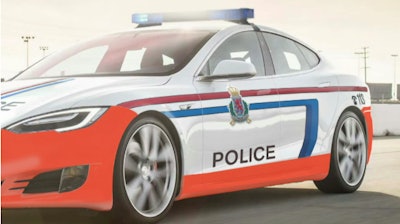 Luxembourg regulators have yet to approve the vehicles. There are apparently still problems with the new light systems and they have yet to complete high-speed tests, which should soon be performed at a test track in Germany.
The Model S vehicles will need to be tested at 250 km/h (155 mph), which is the top speed of the performance versions of the Model S. It's not clear what the nature of the test is other than achieving the top speed. In the meantime, Luxembourg police have completed upfitting the vehicles with police equipment.
The Model S vehicles will actually be used as patrol cars, according to local news station RTL.
The Model S P100D Ludicrous is now the quickest production car with a 0 to 60 mph acceleration in 2.3 seconds, but it's not clear which version Grand-Ducale police in Luxembourg have bought.