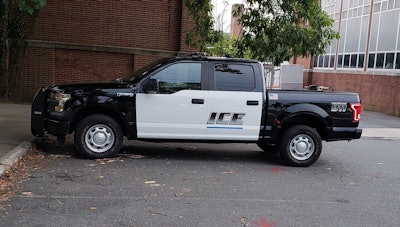 The Princeton (NJ) Police Department took to Facebook on Wednesday to declare to the citizens of that city that the agency is not Immigration Customs Enforcement.
The post was made because someone — or perhaps many people — saw a recently repaired patrol vehicle that had not yet been fully outfitted with the department's decals.
The POL on the driver's door was not yet applied, but the ICE was visible on the rear door.
"So as NOT to be confused, we are posting photos of the actual Immigration vehicles and our own patrol vehicles," the post said. "Though you may see older Princeton Police vehicles that are blue, gold, and white and still others that are black and yellow, our official colors are the traditional Black and White with the Princeton Police written out. Thank You."