Ford today introduced the all-new Police Interceptor Utility, the industry's first pursuit-rated hybrid SUV.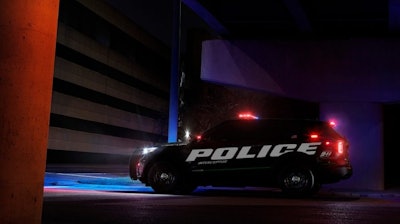 The all-new Ford Police Interceptor Utility hybrid is designed to help make the lives of law enforcement officers easier with improved pursuit performance and standard all-wheel drive – and save agencies and taxpayers money. Its hybrid batteries are specially placed inside the vehicle so they do not compromise passenger or cargo space.
The all-new Police Interceptor Utility also reflects Ford's plan to offer hybrid, plug-in hybrid, or both versions for every new utility in North America.
"We're committed to electrifying vehicles for all customers, including law enforcement who need the high performance and low operating costs that Ford's next-generation hybrids will excel at providing," said Hau Thai-Tang, executive vice president of Product Development and Purchasing. "Standard all-wheel drive is important because crooks don't stop when it rains."
While fuel economy certification isn't complete, the Police Interceptor Utility hybrid is expected to have a projected EPA-estimated combined label of at least 24 mpg – approximately 40% improvement over the current 3.7-liter V6.
Anticipated fuel economy gains, combined with expected fuel savings from reduced engine idling time, are expected to help save law-enforcement customers an estimated $3,200 per vehicle in yearly fuel bills versus the current Police Interceptor Utility.
According to the company, if you applied these savings to every Ford Police Interceptor Utility sold in 2017, it would equate to more than $126 million at $2.93 a gallon, or more than 43 million gallons of fuel.
Sales of Ford Police Interceptor Utility rose 5 percent in 2018, building on five straight years of sales growth and capturing 65 percent of the total U.S. police vehicle market.
The all-new Ford Police Interceptor Utility hybrid is projected to accelerate faster, achieve a higher top speed, and have at least 40% better fuel economy than the previous V6-powered model, helping catch suspected lawbreakers and reduce costs.
The new hybrid-powered Police Interceptor Utility also reduces engine idling time to save fuel when the vehicle is stationary. The hybrid is made to be able to power demanding electrical loads from lights, computers, radios, and other equipment using its lithium-ion hybrid battery, allowing the gasoline engine to shut off and intermittently run to charge the battery.
The Police Interceptor Utility hybrid is calibrated for law enforcement's unique duty cycle. The utility automatically switches to maximum performance – with the engine and battery working at peak acceleration levels – when needed.
In addition to improved performance and no trade-offs in utility, cargo and passenger space, the Police Interceptor Utility features exclusive 75-mph rear impact protection for safety.
Technology Upgrades
The new Police Interceptor Utility also offers the following features:
Standard Ford modem and two-year complimentary Ford Telematics service – a powerful simple-to-use tool that provides vehicle data regarding fuel use, CO2 emissions reduction, and vehicle health
Available all-new Police Perimeter Alert enhances previous Surveillance Mode by using the vehicle's Blind Spot Information System that can monitor approximately 270-degrees of movement outside the vehicle, and analyze motion to determine potentially threatening behavior. It features a visual display in the instrument cluster that shows moving objects, the motion trail, and threat level. When suspicious behavior is detected, the vehicle automatically sounds a chime, rolls up the windows and locks the doors
Available Rear Camera on Demand that allows officers to see what's happening behind the vehicle
Available Class III trailer tow package that enables Police Interceptor Utility to tow up to 5,000 pounds
"With Ford Telematics, we're helping our police customers unlock the data from their vehicles to provide them with more effective ways to manage their fleets and improve operations," said Stephen Tyler, Ford Police Brand Marketing Manager.
The all-new Ford Police Interceptor hybrid will be built at Ford Chicago Assembly plant and up-fitted at Ford's Chicago Modification Center. It goes on sale next summer.