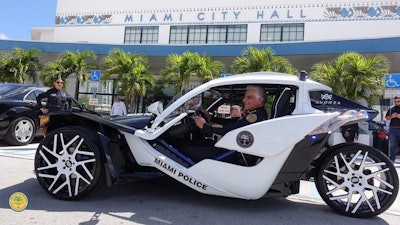 The Miami Police Department's latest car isn't a car at all. It's a three-wheel Polaris Slingshot that was donated by the company to be used as a head-turning vehicle for community outreach, reports Fox News.
"This is going to be an icebreaker for us. Kids are going to want to walk up to this car, see it, sit in it, talk to the policemen, the policemen get to talk to the kids. I mean, it's going to be perfect, man, I'm super excited about it," Miami Police Chief Emilio Gonzalez said at the unveiling Thursday.
Considered an 'autocycle' under motor vehicle laws, the Slingshot was modified with a black and white paint job, lights, and sirens by Miami custom car shop The Auto Firm, which works with many of the city's celebrities.