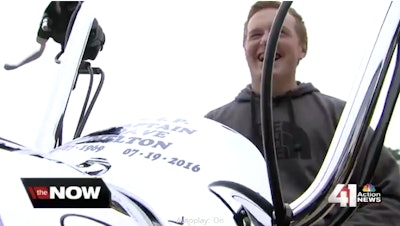 VIDEO: Fallen Kansas Officer's Son Given Dad's Restored Motorcycle
Kansas City, KS, police Capt. Dave Melton, who was killed in the line of duty, loved motorcycles. His son, also named David, is carrying on that passion and will have a way to remember his father every time he hits the road after being given his newly customized motorcycle.
Hellraisers Fabrication & Cycles in Belton, MO, surprised David on Wednesday with the gift he'll never forget. The shop restored Melton's bike, reports KSHB.
"This is the bike he's always wanted, so it's basically a tribute to him in that way already, but even more with everything that's been done to it," David said, a huge smile on his face.
Melton was killed in the line of duty two years ago, and the community is still honoring him.
Hellraisers added some meaningful touches to the late captain's motorcycle. They spray-painted his badge and badge number on a fresh coat of blue paint. Also inscribed are two sayings he once said to his children: "To the moon and back" and "my little man."