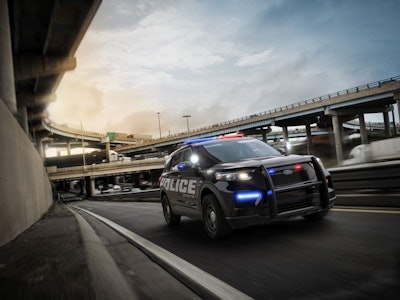 Ford has released additional details on the 2020 Police Interceptor Utility, which is the first pursuit-rated SUV with a gasoline-electric hybrid powertrain. In addition to its innovative engine that significantly improves fuel economy, the new PIU Hybrid offers new officer safety features.
Fuel savings from the hybrid PI Utility are significant. Ford says the combined highway and city MPG is 24 compared with 17 for the 2018, a 41% increase in mileage. But increased MPG is not the only way the hybrid PI Utility can save agencies on fuel costs.
The real fuel expenditure in law enforcement patrol operations is leaving the vehicle running while it's parked at a scene so that it can keep the battery charged to run lights, radios, air conditioning, computers, and other stuff that draws current. The PI Utility hybrid can do that without the engine running. It uses the hybrid batteries and if the charge starts to get low on the batteries it will run the engine just long enough to give them a boost. Ford calculates that the savings over idling a gas engine combined with the MPG increase will save agencies that adopt the PI Utility hybrid $3,500 per vehicle per year. You can go here for more information.
The new safety features include:
Factory-installed Police Perimeter Alert, which uses sensors to monitor an approximately 270-degree area around the vehicle. It detects nearby movement to alert officers of any suspicious activity. When such motion is detected, the system automatically turns on the rear camera, sounds a chime, rolls up the windows, and locks the doors.
Available driver-assist technology includes Pre-Collision Assist with automatic emergency braking, which features Pedestrian Detection and forward collision warning. Additional optional equipment includes Rear Camera On-Demand, which allows officers to view behind the vehicle at the touch of a button, and factory-installed and factory-sealed wiring and lighting packages.
The 2020 PIU is equipped with a Ford modem and two years of complimentary Ford Telematics service, offering fleet managers timely feedback of vehicle usage and location.
Ford puts the Police Interceptor Utility through rigorous testing, including a 75-mph rear-impact crash standard (compared to the 50-mph federal standard). The Police Interceptor Utility is tested for enhanced police durability, including improved cooling, specially tuned braking system, front-door tethers, and police-purposed steel wheels, tires, and hubcaps that are designed to withstand the rigors of a chase. The vehicle is also tested for eight-inch curb impact, median crossing, and 30-mph railroad crossing validation, and water fording to 18 inches at 15 mph and 10 inches at 40 mph.
The 2020 Ford Police Interceptor Utility is offered with a standard 3.3L hybrid, plus available 3L EcoBoost and 3.3L V-6 engines. All are powered by a new 10-speed automatic transmission and feature standard full-time Intelligent All-Wheel Drive and deep snow/sand traction control mode.