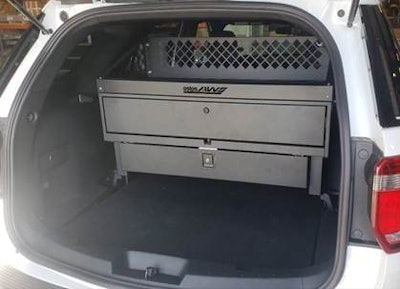 Estes AWS has announced its latest product, the SUV Rapid Access Weapon Locker 2.0. The company says the new weapon locker maintains all of the state-of-the-art security, durability, and automated opening technology features of the original SUV locker, but introduces some new features that build on the previous model's excellence.
Here are the updates of this new SUV Rapid Access Weapon Locker 2.0:
• Specifically designed for SUVs.
• Powder-coated design
• Solid front drawer face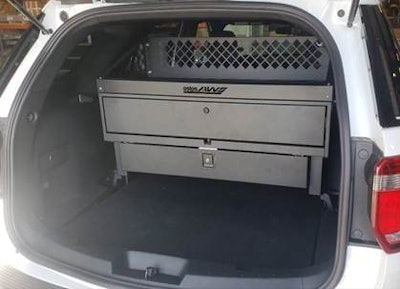 Additional features of the Rapid Access Weapon Lockers:
• Dimensions: Exterior – 42.0" wide x 9.15" tall x 20" deep; Interior – 38.7" wide x 6.7" tall x 15.3" deep
• Opens automatically, by wireless remote
• Comes with manual key override in case of dead battery or lost remote
• Designed with Velcro straps or foam options to secure weapons and keep them from moving
• Shell is made of 18-gauge galvannealed steel and drawer front is made of 14-gauge galvannealed steel to make them secure and tamper proof
• Carpet-lined drawer to protect weapons
• Sleek powder-coated design
• Comfortably secures two weapons with plenty of extra storage space
• Designed to fit into any standard police vehicle
• Option available to place locker on 8-inch risers for spare tire access and extra storage space underneath the unit
• Stackable with other Estes AWS SUV Weapon Lockers and accessories and programmable for both weapon locker units to operate using same remote for convenience
• Configurations available for our most popular SUV models:
o Ford Police Interceptor Utility
o Dodge Durango
o Chevy Tahoe
For pricing or to learn more about the SUV Rapid Access Weapon Locker 2.0, visit https://estesaws.com/contact-us.