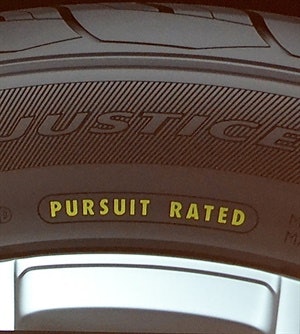 Continental Tire dealers were recently treated to a look at the company's new General G-Max Justice pursuit-rated tire during a meeting in Mexico.
Thanks to being one of the top bidders for the business, Continental will be supplying police departments, government entities and law enforcement agencies with the latest member of the General G-Max family for the next five years.
The successful bid with NASPO (National Association of State Procurement Officials) will go into effect April 1, 2019. NASPO represented 38 states last year, with "police pursuit" representing 50% of the overall business.
In the tire's development process, Continental focused on extended tread life; grip and response; all-season traction; and durability. The result? The tire is CATL-1922 Pursuit and Emergency Approved.
CATL stands for Cooperative Approved Tire List. CATL-1922 approval is needed for the U.S. Government to purchase the following:
The G-Max Justice will fit the Ford Police Interceptor sedan (245/55R18 103V), Ford Police Interceptor Utility vehicle (245/55R18 103V), Chevy Tahoe PPV (265/60R17 108V) and the Dodge Charger Pursuit vehicle (225/60ZR18 100W). It also has sizes to fit older pursuit vehicles like the Chevy Caprice PPV (235/50R18 101W), Ford Crown Victoria (235/55R17 99W) and Chevy Impala Police vehicle (225/60R16 98V).