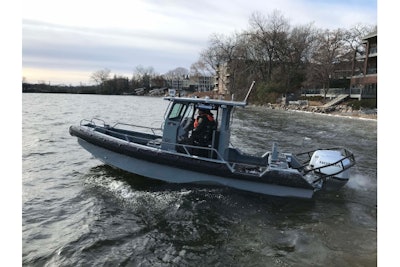 A brand-new patrol craft from Lake Assault Boats will be on display at the International Work Boat Show, booth #3877, Dec. 4–6 in New Orleans, LA. The boat has been on tour, performing for officers representing various law enforcement agencies in Minnesota's Twin Cities and as far north as the Canadian border.
"We were anxious to get our newest patrol craft in the hands of law enforcement organizations before winter and obtain direct and honest feedback regarding its on-the-water performance," said Bob Beck, director of sales and marketing for Lake Assault Boats. "It didn't disappoint. In fact, one officer stated that our demonstration 'converted our lone fiberglass holdout.' We're very excited to have it on display at the International Boat Show."
Officers representing The Hennepin County Sheriff's Water Patrol Unit and the Minnesota DNR were among the first to operate the vessel. The boat was also tested on Lake Vermillion and at Voyageurs National Park near the Canadian border. "We're pleased to report these organizations were universally impressed by its capabilities," added Beck. "Our team really knocked it out of the park on this new patrol craft."
The craft is 24 feet long and is powered by twin Honda 200 hp engines (other engine options are available). It features an overall height less than 13-feet 6-inches and a person and cargo capacity of approx. 3,000 lbs. The boat is outfitted with an innovative bow-to-beach access door and ladder located at the front "V" of the bow, designed to make it easier to deploy officers onto beaches or islands.
The hull is protected by a full collar around the gunwales, and the craft features a semi-enclosed pilothouse with 76 inches of headroom. It offers multiple seating options for two officers. The dash console provides ample room for electronics, and includes a 12-inch touchscreen that integrates an optional forward looking infrared (FLIR) system, GPS, maps, chart plotter, and sonar with structure and side scan.
For more information, visit www.lakeassault.com.