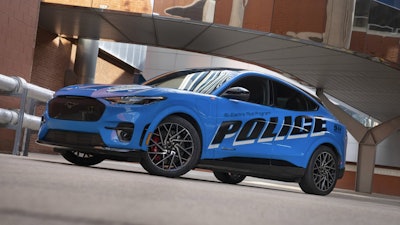 The Michigan State Police will reportedly be testing a Ford Mustang Mach-E electric patrol vehicle at this week's annual MSP evaluations.
Autoblog reports Ford recently showed the U.K. a concept Mach-E police car. And the city of Ann Arbor, Mich., has commissioned two Mach-Es as patrol cars.
Ford says it will use the MSP testing to help it make electric police vehicles in the future, possibly based on the Mustang Mach-E.
Autoblog says Ford didn't detail any of the changes it has made to the Mustang Mach-E it's sending to the Michigan State Police. From photos Autoblog said the Mach E that will be tested is a GT, based on its big Brembo brakes underneath GT wheels and wide tires. Plus, it has the full GT exterior package. The GT produces 480 horsepower and boasts a sub-4-second 0-60 mph time.