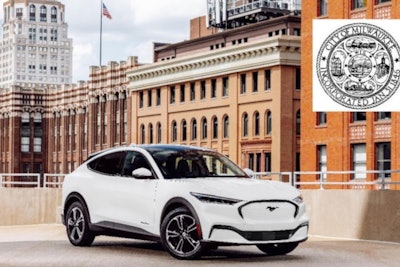 Milwaukee is using four new Ford Mustang Mach-E vehicles for the city's parking enforcement unit, according to WUWM.
Because the parking enforcement unit does a lot of stop-and-go work, the EVs will help reduce idle time, Fleet Services Manager Lonnie Fischer told WUWM. The city is working to upfit the vehicles with license plate readers.
The city does not currently have any DC fast chargers, which can charge a vehicle to nearly 80% in under an hour. Fischer said there are plans to get those next year. Until then, a substantial recharge of the Mach-E's could take at least 24 hours, he explained.