Major changes are coming to one of the nation's most recognizable police vehicles. New York City Police Commissioner Keechant Sewell announced the vehicle redesign during the department's annual State of the NYPD breakfast on January 25.
"Just about every television show or movie set in New York City features our RMP [radio motor patrol] front and center. Yet even icons are due for updates and change every now and then," Sewell said in her presentation.
Patrol Vehicles to Go Green
One of the most notable changes in the new vehicles is the addition of green stripe decals along the sides. The idea came from the New York Police Department's flag, which features these same stripes.
The NYPD's flag is modeled after the United States flag. The five white and green bars represent the boroughs of New York, while the 24 stars represent the disparate cities, towns, and villages incorporated into the City of New York in 1898, according to NYPD's website.
The color green celebrates the city law enforcement's history, and can be traced back to 1658, when the New Amsterdam night watchmen -- the city's first paid police force -- carried lanterns with green glass.
You can learn more about the department's flag by watching the video below, from the flag's 100-year anniversary in 2019.
The new decals will be incorporated onto all vehicles. The department's marked patrol vehicle models include Ford Police Interceptor Utilities, as well as Ford Police Interceptor Utility Hybrids, Ford Mustang Mach-Es, several sedan models, and some motorcycle models. It also has specialty vehicles like command post RVs.
Using Technology to Increase Officer Safety
The updated vehicles will include 360-degree interior camera systems. Highway patrol vehicles in the fleet already have in-car cameras, but the rest of the fleet does not. The updated ones will be able to capture more, with the 360-degree filming capabilities.
Sewell did not name a specific vendor for the technology.
Updates to the Interior Design
The interior of the police vehicles will be revamped for a, "more efficient and comfortable work environment" for officers, Sewell said.
She did not go further into detail about the enhancements.
A New Feature for Community Engagement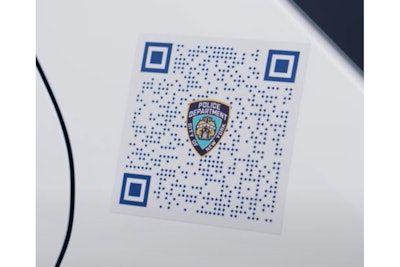 The sides of the patrol vehicles will include QR codes that members of the community can use. Once scanned, they will take people to the NYPD's website where they can learn more about the department.
The NYPD designs and prints all of its decals in-house, recently retired support services bureau deputy commissioner Robert Martinez told Government Fleet.
The public can expect to see the redesigned NYPD vehicles roll out beginning next year.
Christy Grimes is an associate editor at Government Fleet.