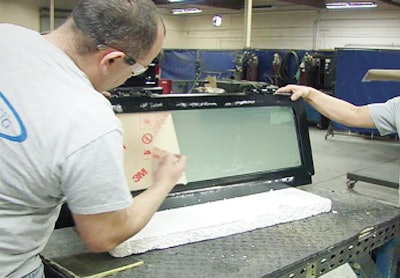 Around 1 p.m. on Jan. 30, Sgt. Cory Wride of the Utah County Sheriff's Office spotted a pickup truck parked on the side of Utah's State Route 73 with its emergency flashers activated. And as he had done many times before, Wride stopped to help what he thought was a stranded motorist who needed a hand.
What Wride didn't realize as his cruiser pulled to a stop behind the truck was that he had fallen into a trap. The back window of the pickup slid open and shots were fired through Wride's windshield.
Wride was killed without a chance to fight back. His attacker—later identified as Jose Angel Garcia-Juaregui, 27—was a fugitive wanted for stabbing and running over one of his associates. Also inside the truck was a 17-year-old girl.
Garcia-Juaregui and the girl drove away. And they might have escaped, except Wride had called in the information on the truck moments before he was shot.
That same afternoon Utah County Sheriff's Dep. Greg Sherwood spotted the pickup truck—now wanted in Wride's murder—and gave chase. And once again shots were fired out the back of the truck through an officer's windshield. Sherwood was hit in the head and critically wounded. He survived.
Garcia-Juaregui did not. He was mortally wounded in a gunfight with law enforcement officers. The girl identified as his teenage girlfriend was charged as an adult with aggravated murder.
The Cause
The murder of Sgt. Cory Wride and the attempted murder of Dep. Greg Sherwood reveal a key vulnerability in American police patrol vehicles. And no one is more aware of this vulnerability than Wride's widow, Nannette.
Some police survivors suffer their grief in silence and solitude. Nannette Wride is the opposite. She is a vocal advocate for improving officer safety. Her key goal is to fit your patrol car and all future patrol cars with bullet-resistant armored glass and door panels.
Wride admits that her campaign for armoring every patrol vehicle nationwide is ambitious and will meet budgetary resistance, but she believes such armor could have saved her husband and many other officers who have been and who will be ambushed in their cars. And she's dedicated to the long haul.
Wride's first move was to launch a petition on WhiteHouse.gov to bring the issue to the attention of the president. She needed 100,000 signatures in order to receive official comment and fell well short of that goal, but she says she knew that would happen from the beginning. And she was encouraged by the number of signatures the petition did receive.
The petition campaign was actually bait for the media. Wride and her son Nathan Mohler, who is working toward becoming a law enforcement officer in Arizona, appeared on local Salt Lake City TV to publicize their effort. The result was that more people started to take it seriously. The mother and son duo also received some audiences with powerful politicians, and those politicians gave them some sound advice. They told Wride and her son to think locally.
"They suggested that we eat the elephant a bite at a time and get our guys covered here in Utah first," Wride says.
The Armor
One of the first things Wride had to do as she began her campaign to add armor to Utah's patrol vehicles was to learn more about the technology. Fortunately for Wride, one of the world's premier passenger vehicle armoring companies is based in Utah. She contacted International Armoring in Centerville, and the company's management agreed to teach her about vehicle armor and explain what could be done to protect officers in their rolling offices.
Mark Burton, CEO of International Armoring, says few people, including law enforcement officers, are aware of recent advances in armor technology that have produced materials that can protect the occupants of passenger vehicles without adding significant weight or compromising performance.
International Armoring has been fitting passenger vehicles, including a few patrol cars, with ballistic protection for 15 years. Its primary customers are celebrities and international customers, ranging from heads of state to business executives to private security agencies.
Burton says the company's experience shows that Wride's focus on windshields is critically important for officer safety. "We've had almost 400 attacks on vehicles we armored over the years, and 90% of the rounds hit the glass," he explains. "People shoot at what they can see."
In the past, armoring windshields, side windows, and doors in patrol vehicles per Wride's plan would have added a lot of weight. But Burton says that has changed and using today's technology the armor is comparatively very light and will have nominal effect on the vehicle's performance. "It's a maximum additional weight of about 200 pounds. That's like adding another passenger into the car," he says.
Many of the drawbacks that police officers have raised about armoring patrol cars have also been eliminated by advances in armor. For example, some officers believe that adding ballistic glass to patrol cars would make them death traps in the event of an accident, as the heavy glass would shatter into large, sharp shards and impale the occupants unlike safety glass windshields, which crumble into dull-edged chunks.
Ballistic windshields are no longer anywhere near as heavy or thick as they were in the past. Burton says an NIJ Level III windshield that can stop AR and AK fire is 33 millimeters (1.3 inches) thick. And while that's certainly substantially thicker than a standard windshield, it's not the brick-thick glass that was once required to protect vehicle occupants from rifle bullets.
The type of glass now being used by International Armoring for passenger vehicles is a multi-laminate. It consists of a hardened glass, then an acrylic inner layer, and finally a polycarbonate backing. "The hardened glass and the acrylic slow the round down and the polycarbonate has elasticity. It absorbs the energy, and stops the round and any fragments," Burton says.
The Money
Of course all this high-tech protection comes at a price. And that's the biggest obstacle that Wride faces as she pursues her dream of armoring all of Utah's and eventually all of the nation's patrol cars.
But there is some precedent for agencies paying to add armor to their patrol vehicles. In the mid-2000s Ford started offering ballistic armor as an option on the driver and passenger doors of the Crown Vic. Ford Police Marketing Manager Jonathan Honeycutt says the option has been popular with some customers and is still available on the Police Interceptor Sedan and Police Interceptor Utility.
Adding ballistic protection to patrol vehicle doors lets officers use the doors as a shield during situations that require ballistic cover. And although it adds some to the bottom line cost of the car, it's not a budget buster. Adding ballistic glass, however, is considerably more expensive, and no patrol vehicle manufacturer currently offers it as an option.
Wride knows that few agencies can afford to provide the kind of patrol car armor she envisions just through their budgets. She believes the goal can be accomplished through a combination of private and corporate donations, grants, and other alternative funding.
Toward that end she has started a 501(c)(3) non-profit organization, the Utah Code 4 Foundation, to raise money for armoring the patrol vehicles of Utah agencies. She has also secured the URL Utahcode4.com and set up a bank account for donations.
In addition to raising money for armoring patrol cars, Wride plans to use her Website to publicize the actions of heroic and self-sacrificing officers. She says she will write a blog for the site and post videos of officers doing good things. "I want to humanize the officers in the public mind," she says.
But the primary focus of the site is raising funds to armor patrol vehicles, and that of course requires participation from law enforcement agencies. Wride says she is working with three Utah agencies—the Draper Police Department, the Carbon County Sheriff's Office, and the Utah County Sheriff's Office—that have agreed to let her armor some of their vehicles once funding is available.
She is also receiving help from International Armoring, which has agreed to offer a special armor package and installation at a special price. "They graciously agreed to cut their costs," Wride says.
Burton believes if Wride's campaign were to suddenly become a huge success that all of the nation's patrol cars could actually be armored in a very short time. He estimates that each vehicle armoring will require 48 labor hours and that the nine or so passenger vehicle armoring companies in the U.S., including International Armoring, could scale up very quickly. And of course, economies of scale would drive down the costs if thousands of patrol cars were being armored.
Still, the most practical way to achieve Wride's goal would be through the carmakers themselves offering an armor package as an option in the same manner that Ford currently offers ballistic door armor on its police vehicles. Wride is well aware of this and she already plans to meet with the carmakers.
She says she will be relentless in her pursuit of providing more protection for officers. "I want this for all our guys," she says. "I have talked with veterans who have come back from Afghanistan and Iraq to be police officers. They tell me, 'We're doing the same things we did over there here on the job. The only difference is here we do it with nothing.'"