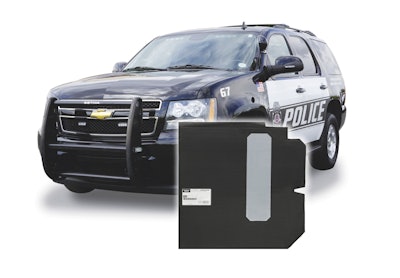 Fort Collins, Colo.-based Angel Armor creates advanced ballistic solutions for law enforcement as well as the military. And the company is proud of the level of protection and ease of use its expanded line of Ballistic Door Panels provides law enforcement officers while they're driving and on calls. "Our Ballistic Door Panels really give an opportunity for officers to turn their doors into shields," says Reed Doughty, Angel Armor's PR and media planner.
Everything in the panels' ballistic package is made in the USA and must meet exacting standards. "Our tagline is 'protection at a higher level.' We exceed the NIJ IIIA standard for multi-round protection, including special threats such as the .45 ACP Speer Gold Dot Hollow Point and 9 mm Luger Federal LE Tactical Hydra-Shok," Doughty says. Angel Armor tests everything in the company's in-house ballistic lab.
In addition, panels undergo environmental testing to ensure they are "weather proof," meaning they are resistant to heat, cold, humidity, vibration, and abrasion, so officers will be protected in all conditions on duty. Angel Armor has a patent on the proprietary manufacturing process and the materials used. The technology allows the armor to provide optimal protection while staying thin and lightweight, weighing less than nine pounds per panel, Doughty says. "We want to provide the best opportunity for officers against the most prevalent threats, and we feel like we've addressed that."
Doughty is not aware of an official change in agencies' training or policy to reflect use of Angel Armor ballistic panels in vehicle doors, but he believes it will start to change officers' strategy in tactical situations by providing them with another protection option. On the Angel Armor Website, a law enforcement officer posted, "Recent months have brought the realization of ambush, and overt assaults on LEOs. I now consider this every day. Having a IIIA door panel would undoubtedly add to my feeling of security."
Another main selling point is the panels' ease of installation. "We have the fastest installation in the industry," Doughty says, with an average of 15 minutes or less per panel to install. "An officer can come in on his or her lunch break, have the panel installed, and be out on patrol that same day. We're not taking any vehicles out of commission."
To install, you essentially remove the door's weather stripping and slide the Ballistic Door Panel between the window and the door. You don't need to weld brackets to the car or put bolts through the panels, which means no holes puncturing the armor. This preserves the strength of the armor panels and simplifies installation. Departments can use their own fleet crews to install the panels, or Angel Armor will work with its distributor network to help connect agencies with an upfitter.
The fact that Angel Armor creates different Ballistic Door Panels designed specifically for each make and model also aids in simplifying installation. But more importantly, this ensures proper ballistic coverage, no matter the vehicle.
"Angel Armor has optimized the protection areas of every door panel for each make and model, and we're compatible with every major law enforcement vehicle," Doughty says, including new panels for Chevrolet's Chevy Suburban, Silverado, and Avalanche; and GMC's Yukon, Yukon XL, and Sierra; and the Cadillac Escalade.
But you won't pay more for larger door panels. No matter which vehicle you drive, MSRP is $1,350 per panel; agency and distributor pricing are available on request. Panels for additional vehicles may become available according to need.
"We're innovators. We are always pushing for lighter, thinner, and better protection, at a cost-effective price point. I think these features are something officers can look for Angel Armor to provide now, and for years to come," says Doughty. "We want to defend life from threat with revolutionary ballistic protection. That's our mission."
For more information visit Angel Armor Online.