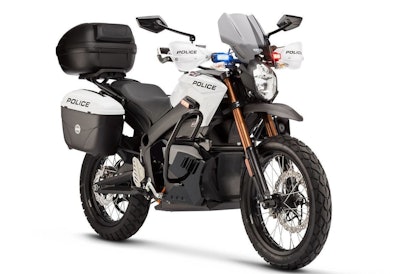 Beaudry Police Authority Sales
GEM/Zero Electric Police Motorcycle
The GEM/Zero Electric Police Motorcycle was designed and manufactured by Beaudry Police to act as a green alternative to patrol motorcycles. With a 196-mile estimated range and 116 ft-pounds of torque, it's made to keep up with its gas-powered brothers. The company saw the potential for converting this distinctive two-wheeled platform into a law enforcement tool whether for daily patrol or stealth operations. The GEM/Zero is mission capable along with almost zero cost per mile, according to the company.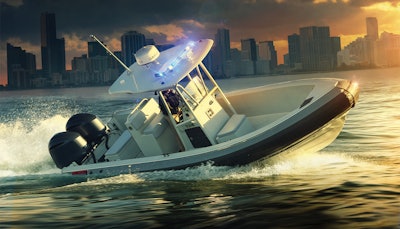 Brunswick Commercial & Government Products
850 Impact D-Collar Boat
Brunswick's Impact D features a hybrid air/foam-filled collar mounted to a solid fiberglass gunnel. Instead of a fully circular tube, the Impact D-collar allows for more space on deck and added maneuverability and versatility for the crew. The D-collar gives customers the best characteristics of a standard fiberglass hull with the benefits of an RHIB. Law enforcement finds this design especially suited to tactical maneuvers, where boarding another craft may be necessary, according to the company.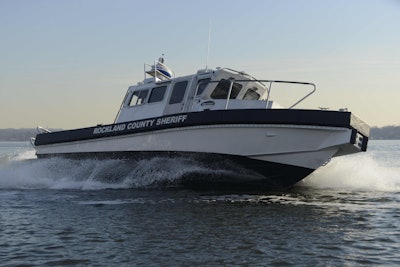 Lake Assault
Custom Patrol Boat
The Lake Assault custom patrol boat is now on duty with the Rockland County Sheriff's Department in New York. Manufactured from high-strength marine grade aluminum, the hull and superstructure are MIG and TIG welded throughout for added strength and long life. The craft is 31 feet long and features a full-width and forward leaning pilothouse, a davit crane, and a full array of advanced electronics. It is powered by dual 300 hp Mercury Verado 4-stroke outboards.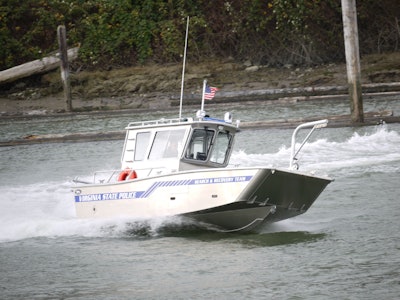 Munson Boats
24' Dive/Rescue Boats
The Virginia State Police Search and Recovery Team operates a pair of easily trailerable Munson 24-foot landing craft that are used for dive operations, swift water rescues, evidence recovery, and wildland fire and oil spill response. Outfitting includes a walk around cabin with forced air heater, dive bottle racks, dive ladder, tow post, lifting davit, Lowrance HDS-9 side scan sonar, FLIR infared camera, and EZ Loader trailer.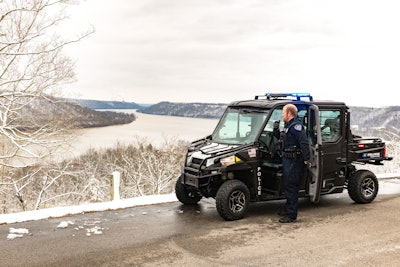 Polaris Government and Defense
Polaris Ranger
The Polaris Ranger helps improve response time and reach to locations – both urban and off-road – where cars, trucks, or helicopters cannot operate. Rangers are also a budget-friendly alternative to full-size vehicles, as are the maintenance, parts, and repair costs. Ranger law enforcement units provide professional, squad car-type capabilities in a nimble vehicle complete with the same sirens, horns, PA system, and emergency lighting from Federal Signal, professionally upfit by Action Fleet and under warranty from Polaris. Purchase as a single vehicle from Polaris, NJPA or GSA.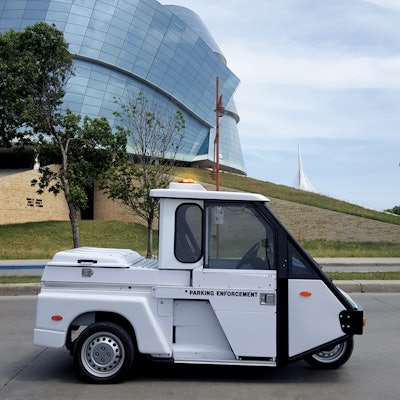 Westward Industries
GO-4 Parking Enforcement and Patrol Vehicle
Westward Industries' GO-4 parking enforcement and light patrol vehicle is used by cities from San Francisco to New York. It uses a 100+-mile-range lithium battery pack or 66 hp gas engine and has a very small footprint, allowing for exceptional maneuverability while alleviating traffic congestion. Built domestically with a 2.5-inch steel roll-cage, this vehicle is made to offer superb safety and durability. Cities deploying these vehicles can increase productivity and reliability, therefore recognizing a high return on investment.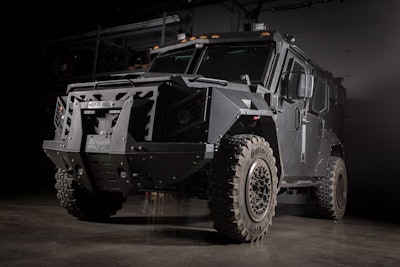 The Armored Group
Ballistic Armored Technical Transport
The Armored Group (TAG) BATT-APX is a fully modular armored rescue vehicle that can be built on a variety of chassis, allowing ease of use and reduced maintenance costs. Designed and engineered in Detroit, the BATT-APX features proven and independently verified .50 caliber armor protection and offers capabilities including adjustable hydraulic ram, gas injection devices, thermal cameras, winches, and turret protection. This new modular platform can also be adjusted for EOD, Medevac, and Border Patrol teams to help save law enforcement officers' lives.