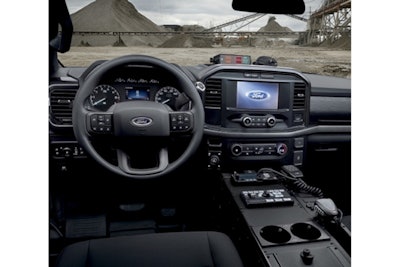 America's only pursuit-rated pickup truck is getting some major improvements after four years on the market. Introduced in 2017, the Ford F-150 Police Responder is getting more power and a slew of purpose-built features and options for the 2021 model.
Built on a 2021 F-150 supercrew platform, the second generation of the Ford F-150 Police Responder shares the same mission profile as the 2017 model. It's designed for multi-purpose law enforcement operation, including street duty, off-road applications, and towing and hauling trailers. The 2021 F-150 Police Responder essentially gives agencies a special service vehicle and a pursuit vehicle in the same rugged package.
Power and Performance
"Law enforcement agencies told us they would love to add F-150 Police Responder towing, hauling, and off-road performance to their fleets, but they needed more confidence in [the vehicle's] speed and handling," says Greg Ebel, Ford police vehicle brand manager. "Whether suburban police departments, Border Patrol agents, or rural sheriffs, officers never know where the job might take them, but the all new F-150 Police Responder provides a pickup truck option engineered to get them there faster and with greater agility than ever before."
The 2021 F-150 Police Responder is powered by a 3.5-liter ecoboost V6 engine with direct fuel injection. This engine produces 400 horsepower and 500 pound-feet of torque.
Ford has not released the official 0 to 60 mph stats for the new pursuit pickup, but Motor Trend estimates that the 2021 F-150 Police Responder can go from 0 to 60 mph in 5.2 seconds. If that estimate is accurate, the all new pursuit pickup has some serious acceleration, given that the 2017 F-150 Police Responder clocked 6.6 seconds from stop to 60 at last year's Michigan State Police testing. Also, given the new F-150 Police Responder's higher top speed, you can bet that it's closing speed has alsoimproved.
Not just any tire can handle 120 mph on a highway and then provide traction off road. The 2021 F-150 Police Responder rides on specially developed Goodyear LT265/70R18 LRC BSW Wrangler Enforcer all-terrain tires. Ford says the tires are "uniquely designed to handle fast acceleration, high speeds and aggressive cornering on paved roads and can endure the heat generated in pursuits without sacrificing the off-road capability…"
The 2021 F-150 Police Responder's transmission is a 10-speed selectshift automatic calibrated to achieve higher speeds than a stock F-150. Like the 2021 F-150 consumer model, the new pursuit pickup features the torque-on-demand transfer case with "4-Auto" drive mode and an electronically actuated clutch. That combination lets the vehicle transition automatically from rear-wheel drive to four-wheel drive.
Performance for the F-150 Police Responder is not just about speed, cornering, or even braking. It's about towing. Standard towing capacity for the pursuit pickup is 7,000 pounds and available towing capacity is 11,200 pounds. The towing capacity is in addition to the vehicle's payload capacity of 2,030 pounds. Available towing packages add features like Pro Trailer Backup Assist, 360-degree camera, Trailer Reverse Guidance, and integrated Trailer Brake Controller. Smart Trailer Tow Connector is standard on Class IV hitch-equipped vehicles and adds Trailer Coverage to the available Blind Spot Information System.
Police Fleet Features
It is not unusual for empty idling patrol vehicles with keys in the ignition to be stolen by suspects at crime scenes. That's why Ford is now offering Police Engine Idle. This feature on the 2021 F-150 Police Responder lets the officer remove the key from the ignition and keep the engine idling to power emergency lights, air conditioning, and other equipment on the vehicle. This reduces the chance of theft. Agencies can choose from electronic fobs or traditional fleet keys.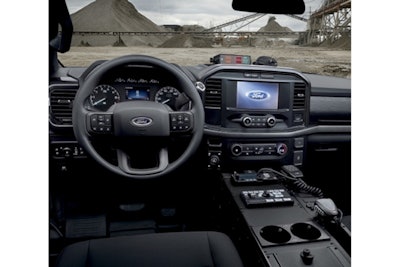 The new F-150 comes with Ford's Sync 4 infotainment system with cloud connectivity. Sync 4 includes an 8-inch touch screen and an embedded modem with wireless updates. The cloud connectivity and embedded modem allow agencies to receive software updates and avoid unplanned service or maintenance downtime.
Like all Ford fleet vehicles, the 2021 F-150 Police Responder offers Ford Telematics. The telematics system helps fleet managers optimize running costs, track the maintenance, predict unscheduled maintenance, and improve driver behavior.
The 2021 F-150 Police Responder comes standard with Ford's Reverse Sensing System, which alerts drivers if they are about to back into something. Optional Pre-Collision Assist with Pedestrian Detection that includes Forward Collision Warning and Automatic Emergency Braking now comes with a one-touch temporary disable switch so that officers can perform the PIT Maneuver or when necessary ram a vehicle or structure. Blind Spot Information System with Cross-Traffic alert is available.
Upfitting is facilitated by the design of the front console, the universal top tray on the instrument panel, and the rear power lug. The 40-Blank-40 front seat configuration on the F-150 Police Responder lets agencies install their own department-specific center console. A new factory installed center console is available as part of the Interior Upgrade Package, as is a new interior work surface that provides a flat surface for writing or computer work.
Comfort and Safety
The 2021 F-150 Police Responder's supercrew configuration makes it an excellent personnel transport vehicle. Interior dimensions of the vehicle provide enough space for five officers in full gear to sit comfortably, according to Ford.
There are also features in the seats to enhance officer safety and comfort. The front seats have built in steel intrusion plates to protect against edged weapon attacks from prisoners in the back seats. The seats are designed to make it easier for officers wearing duty gear to get in and out of the truck.
Officers also wanted a different interior for the 2021 F-150 Police Responder. The updated interior is darker than the one in the first-generation F-150 Police Responder. Features include red-and-white task lighting. LED warning lights are available in red and blue, amber, or amber and white.
The order bank for the 2021 f-150 police responder is now open.