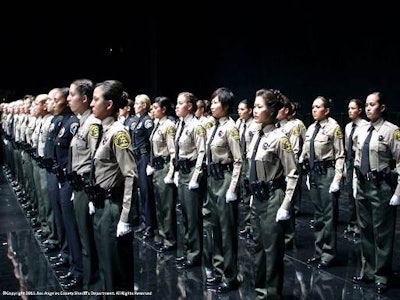 The Los Angeles County Sheriff's Department has welcomed 53 new deputies to its ranks in a cadet class where females outnumbered males.
The graduating class was made up of 27 female and 26 male deputies. Also, fourteen graduates will serve as officers with the Los Angeles School Police Department and municipal departments in Arcadia, Burbank, Culver City, Glendora, and Torrance.
The officers who graduated from the sheriff's training academy in Whittier were officially sworn during a Dec. 15 ceremony at the Dorothy Chandler Pavilion in downtown Los Angeles.
A badge-pinning ceremony was part of the graduation, during which the new deputies and officers received their badges from a family member or loved one. After receiving their graduation certificates, the graduates were officially sworn in as peace officers by Sheriff Lee Baca.
Deputy Brittany Moyer of Fontana was named the Honor Recruit for Class 385. This award is given to the recruit who achieves the highest numerical average based on leadership qualities, academics, marksmanship, and physical performance. Burbank Police Officer Julie Oates of Valencia graduated with the highest academic scores.