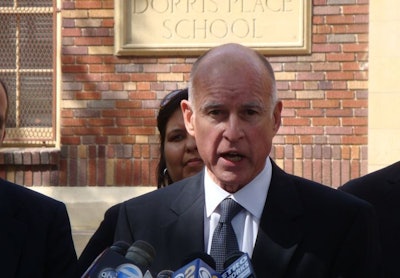 California Governor Jerry Brown introduced what he called "radical change" to the pension system Tuesday, a plan that met with stiff opposition from the state's public employee unions.
Public unions objected strongly to the plan during a noon press conference following its unveiling. Gov. Brown said the plan would save the state from $18 billion to $30 billion over the next 30 years, but he provided no details on where the savings would come from, reports the Los Angeles Times.
"If the legislature approves these reforms, public retirement benefits will be lower than when I took office in 1975," Gov. Brown said. "Additional changes would require a vote of the people."
Under terms of the plan, officers would be required to work until age 57 to receive their full pension payout. An officer could earn up to 2.7% of their annual salary for every year of public employment. The plan would also cap an officer's salary that could be used to calculate pensions at $130,000.
"My biggest concern is age 57," said Sgt. Jim Unland, president of the San Jose Police Officers' Association. "That's pretty tough to ask someone to fight some 20 year old [who's] high on drugs or drunk."
The plan represents a further reduction of benefits for new officers hired by the California Highway Patrol, whose union in 2010 agreed to reduced benefits.
New employees would also be required to pay 50% of normal pension costs, while the state would pay the other half.
Gov. Brown has abandoned his plan to implement a hybrid pension that would include a 401(k)-style benefit.
The hybrid plan was a "nice idea, but it was just something they couldn't put together," Unland said.
Law enforcement officers working in Los Angeles, San Jose, San Diego, and other charter cities would be exempt from the plan. Read Gov. Brown's press release here.
By Paul Clinton
Related:
CHP Agrees to Pension Reduction for New Hires
Police Unions Vow To Fight Pension Reform