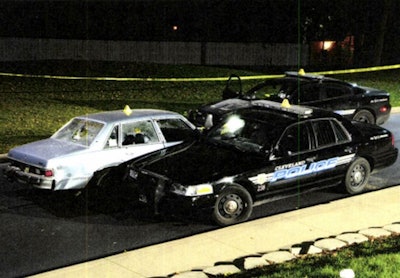 Twelve Cleveland police supervisors face disciplinary hearings for failing to control a deadly high-speed chase that resulted in the deaths of two unarmed suspects at an East Cleveland school.
Police Chief Michael McGrath said Tuesday that his office and the agency's Integrity Control Section have reviewed the supervisors' actions on Nov. 29 and determined that they violated the department's mission statement, standards of conduct, and several rules on vehicle pursuits, reports the Cleveland Plain Dealer.
The supervisors include a captain, lieutenant and 10 sergeants. All have been with the department since 1998 and one is a 28-year veteran. Other officers could also face disciplinary action, and 13 officers who used deadly force face possible criminal charges. Cuyahoga County Prosecutor Timothy McGinty is now completing that investigation, the agency announced last week. Those 13 officers would be subject to a departmental review following the criminal investigation.
The Cleveland Division of Police's internal review determined that 98 officers and 15 supervisors had some role in the pursuit. There were 322 officers on duty that night.
"Overall, the majority of officers and supervisors who were on duty during the pursuit on Nov. 29 followed policies and procedures," according to an April 24 statement by Chief McGrath. "However, the evidence presented by the committee indicates that there were infractions."
In February, the Ohio Attorney General said the pursuit revealed a "systematic failure" within the department. In March, the Department of Justice opened a civil rights investigation of the department.
Following the 20-minute chase that involved 62 patrol vehicles, suspects Timothy Russell and Malissa Williams were killed in a hail of police gunfire. Some 137 rounds were fired at their Chevrolet Malibu.