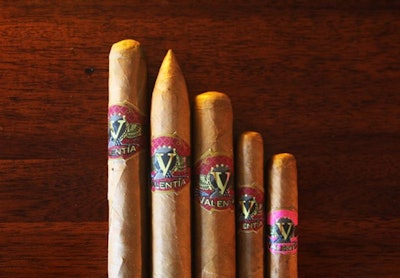 Valentia Cigars has introduced a new line of cigars and a tobacco dealer incentive program that provides purchase credits to law enforcement agencies to acquire gear distributed by The Mako Group.
The Valentia Assistance for Law Enforcement (VALE) program allows agencies to acquire gear from Meprolight, FAB Defense, Front Line, and E-Lander. The Valentia line includes Churchill, Robusto, Torpedo, Fuerza Gentleman, and Fuerza Lady.
In the VALE program, each time a tobacco dealer orders Valentia cigars, the participating law enforcement agency designated by that dealer receives a credit of 15% toward the purchase of Mako gear, Valentia spokesman Robert Schaefer told POLICE Magazine.
"We found a way Valentia Cigars can support police departments," Schaefer said. "We can help the dealer to help make his community safer."
Valentia Cigars are manufactured in the Dominican Republic with wrapper leaves from Ecuador and Connecticut tobacco, filler from Nicaragua and Dominican Republic tobacco, and binder leaves from Indonesia. Valentia Cigars are available individually, in a three-pack, or in an Heirloom box of 25.