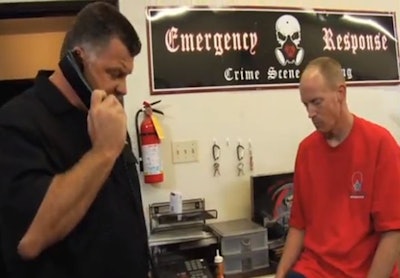 A crowd-funded documentary will feature a former Glendale, Calif., police detective who started a crime-scene cleaning business after a medical retirement.
"Grime Scene" will feature Ben Mihm and his story of "survival, resurrection, and reinvention," according to a press release. The doc will be produced by Emmy-winner Angie Brown and Jessica Everleth in a partnership with Evolution LA and producer Mark Shockley.
The producers launched an Indiegogo campaign to acquire the budget for the project.
Mihm, 54, was injured in the line of duty in 2001 and forced to retire from the Glendale Police Department. He served for 20 years, including three as a homicide detective.
Mihm was injured while chasing a suspect. He was struck by his patrol vehicle, suffering a broken pelvis, shattered hips, separated shoulder, and four compression fractures of his spine.
Mihm's career ended just a few years before he collected retirement benefits. In 2002, he retired and started Emergency Response to support his wife and three children.
"I loved everything about being a police officer," Mihm said in a statement. "I loved the action, the chase, the capture. I thrived in the job. I'd found my calling. But one day it all came crashing down."
The documentary follows Mihm's clean-up assignments and "will give viewers a ringside seat at the scene of the crime—murders, suicides, violent deaths, traumatic injuries," according to a release.