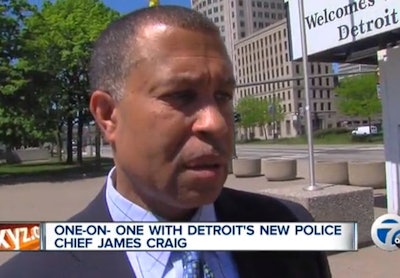 The Detroit Police Department's patrol union president welcomed the new chief as a "cop's cop" and told POLICE Magazine he's looking forward to working with him.
Chief James Craig, who takes over full time July 1, has returned to the city where he began his law enforcement career as a patrol officer in 1977. He has called the chief's role "a dream job" and must rebuild patrol morale and update equipment and training among other challenges.
Mark Diaz, president of the Detroit Police Officers Association, said Chief Craig is an ideal fit.
"His reputation and his work history speak for itself," Diaz told POLICE. "He's a very open individual. He portrays a very solid love for the community. He's a cop's cop. The officers with the city of Detroit are looking forward to working him."
Craig arrives in the Motor City with an impressive resume. After he was laid off by the Detroit PD in 1981, he transferred to the LAPD, where he spent 28 years and retired at the rank of Captain III. He returned to police work as the chief of the Portland (Maine) Police Department. In 2011, he took over as Cincinnati's chief.
When Craig arrives in Detroit, he takes over a department with 1,923 sworn officers covering a jurisdiction of about 750,000 residents. The agency, and city, is being run by state-appointed emergency manager Kevyn Orr. Appointed in March, Orr will be in place for at least 18 months.
When Orr took over, the city's elected and law enforcement leaders vowed to reduce gun-related violence in the shattered city by 25% this year through targeted enforcement and agency collaboration.
Since August, officers have been working mandatory 12-hour shifts, which has caused a "burnout factor" to come into play, Diaz said. Most officers report for duty and have 30 "priority one" calls waiting for them. Those include felony crimes in progress such as homicide, rape, robbery, and breaking and entering.
"It's very overwhelming," Diaz said.
Chief Craig told WXYZ that "change is coming," and has said he will transfer officers to patrol from desk jobs, reports MLive.com.
By Paul Clinton