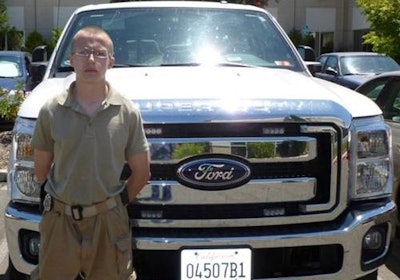 The FBI's San Francisco office is seeking the public's help in providing information about a 21-year-old Oakland man who carried fake law enforcement identification, an FN 303 riot-control gun, and a semi-auto handgun.
Max Joseph Plog-Horowitz, who was arrested last year for impersonating a federal agent, is back in custody, after he violated his parole by possessing the FN 303.
Hayward Police officers initially arrested Plog-Horowitz almost a year ago, on July 23, and recovered false government identification and other forged law enforcement documents. He was convicted of impersonating a federal officer earlier this year, on March 25, and sentenced to nine months of probation.
While serving his supervised probation, Plog-Horowitz obtained the less-lethal FN 303, a handgun, and other law enforcement paraphernalia such as fake badges and identification, according to the FBI. Federal agents arrested Plog-Horowitz at his Oakland home May 16. He will appear in federal court on June 24.
Plog-Horowitz is described as a white male, 5-foot-4-inches tall, and about 120 pounds. He has brown hair and hazel eyes. He is known to drive a white, 2012 Ford F-250 truck with California license plate 04507B1 that had markings, including emergency lighting, which made it appear to be a law enforcement vehicle. He has also been known by the name Max Heartmann.
Julianne Sohn, an FBI spokeswoman, told Policemag.com the FBI is advising the public to seek verification from officers that make contact with them wearing conspicuous clothing or say they represent unusual agencies.
"We want to make sure that when people are pulled over by someone who says they are a law enforcement officer, people can verify that," Sohn said. "If doesn't hurt to ask for verification from someone with an agency you're not familiar with."