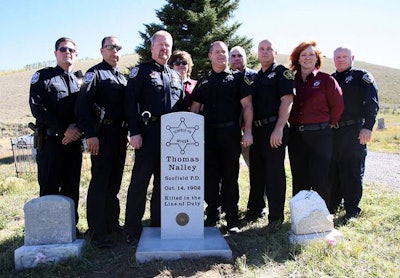 The Utah Law Enforcement Memorial Board has honored a deputy killed in the line of duty in 1902 with a headstone stating his sacrifice to his community.
The board unveiled the headstone in the Scofield Cemetery for Thomas Nalley, a deputy with the Scofield Police Department whose sacrifice had previously not been known, reports The Deseret News.
On Oct. 5, 1902, Nalley had been deputized by Scofield Town Marshal Hugh Hunter. After receiving a complaint about a loud party, Hunter had attempted to quiet down the group at a residence. During his second attempt, he was disarmed during a physical altercation.
Hunter deputized Nalley and several others, and later returned to the residence to make several arrests. Nalley was fatally pistol-whipped by the homeowner, who was shot and killed by other officers.
Following the attack, Officer Nalley was transported to St. Marks Hospital in Salt Lake City, where he died on Oct. 14. His grave has been unmarked for 111 years, according to the memorial board.
Officers with the Carbon County Sheriff's Office and the Naples Police Department participated in the Tuesday ceremony honoring Deputy Nalley. The Naples Police Officers Association adopted Nalley as one of their own, because the Scofield PD has long since been disbanded.