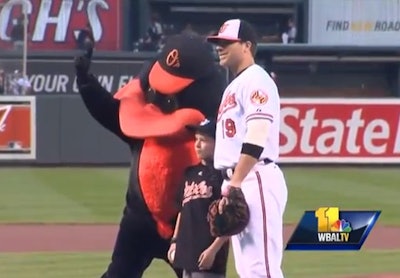 The son of slain Baltimore County Police Officer Jason Schneider threw out the first pitch at Thursday's Orioles game against the Chicago White Sox.
Brandon, 10, took the field at Camden Yards for the 7:05 p.m. game after attending a batting practice in the afternoon, where he met some players, said Orioles spokeswoman Monica Barlow.
She said the team is "more than happy to have him out. Anything we can do to help lighten the load for Brandon and help take his mind off of it for a little bit of time."
Read the full Baltimore Sun story.
Related:
Hospital Employee's Facebook Attack on LE Follows Duty Death