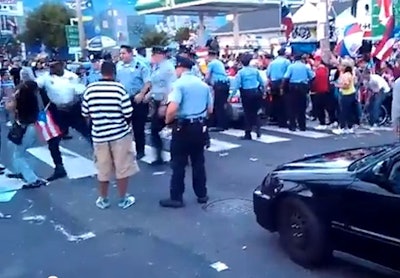 The Philadelphia Police officer fired for hitting a woman in the face at the Puerto Rican Day parade was reinstated by an arbitrator, who ruled that his firing was improper.
Lt. Jonathan Josey was a 19-year veteran of the force in October when Commissioner Charles Ramsey fired him several days after the incident that was captured on cellphone video, reports the Philadelphia Inquirer.
Josey successfully argued that he accidentally struck Aida Guzman while trying to swipe a beer bottle from her hand. Bottled had been thrown at police from the crowd.
A municipal judge acquitted Josey of criminal charges in February. He has been given full benefits and 11 months of back pay.