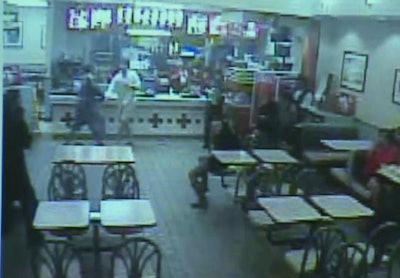 Special Agent Chris Deedy took the stand Tuesday and told jurors Kollin Elderts was the aggressor in a fatal off-duty shooting that led to murder charges being brought against him.
Deedy's trial, now in its 19th day, continues today.
During his first day of testimony, Deedy said he intervened after seeing Elderts and a friend harassing a customer in a Waikiki McDonald's in November 2011, reports Hawaii News Now.
"After I said, 'Nobody here wants to fight,' his immediate response was, 'I'll f**k you up,'" said Deedy.
In mid-July, jurors watched surveillance video from the night of the fatal shooting. A raw 19-minute clip has been posted at Hawaii News Now. The video shows a physical confrontation between Deedy and Elderts. It also shows Elderts pushing Deedy backward and he topples into a hand sanitizer stand.
Deedy fired three shots at Elderts, hitting him once in the chest. Deedy is a special agent with the U.S. State Department.