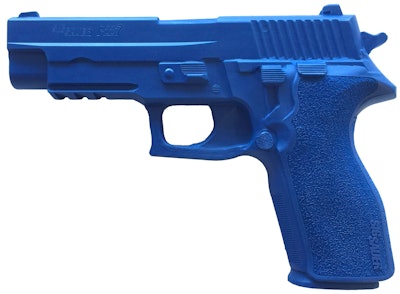 The new SIG Sauer P227R replica from Ring's Manufacturing is molded from solid blue polyurethane to differentiate it from a live weapon.
The P227R is SIG's latest addition to the company's "classic" P-series pistols and its first double-stack .45 ACP handgun. Patterned off the P220 and P226, the pistol has a capacity of 10+1 rounds of the large-caliber cartridge with flush-fit magazines and 14+1 with extended factory magazines.
For decades the SIG Sauer Classic series handguns have been a dependable partner to tens of thousands of law enforcement officers. The P227R is designed to continue that legacy with its combination of greater capacity and larger caliber.
Blueguns' SIG Sauer P227R is a 1:1 exact replica of the original Sig P227R, allowing officers to train in safe realistic tactical scenarios without the need to use their duty firearms. All Blueguns are 100% manufactured in the USA.
For more information visit www.blueguns.com.