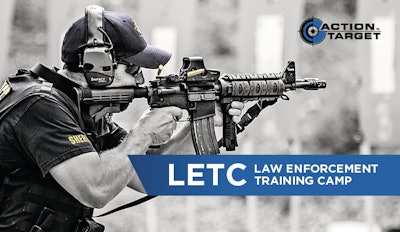 Action Target has opened registration for its heavily anticipated annual Law Enforcement Training Camp (LETC), being held September 14-18, 2015. Now in its 23rd year, LETC brings over 140 firearms trainers from across the country and around the world together for a week of fast paced, world class training. Action Target designed this event to aid firearms instructors in their training effectiveness and skill, and to pass those skills along to officers in their respective agencies.
"LETC is a way for Action Target to give back to the LE community. The high praise and positive feedback that we receive from LETC attendees each year intensifies our commitment to continuously improve our training programs and products," said Seth Ercanbrack, Marketing Communications Manager at Action Target.
Courses at LETC are taught by some of the best firearms instructors in the industry, and are as varied as the participants attending. This year's curriculum includes the following courses:
Shoot House/Low Light Tactics
Extreme CQB Tactics, Knife & Gun
Real Threats, Real Solutions to Win the Fight
Movement Shooting, The Real World
Rapid Deployment Patrol Rifle
Practical Shotgun
Reactive Shooting
LE Precision Rifle
With the addition of new course offerings and a new high-speed format, this year's LETC promises to be better than ever. At the nightly competition participants have a chance to show their skill and compete to win prizes and bragging rights. LETC has built a long-standing reputation for great training, great people, great food, and great value.
"What separates LETC from the many schools and courses I've been a part of is the depth of skill, knowledge, and passion for learning and teaching that comes together each year at LETC," said Michael Lehner, LETC Training Administrator.
Agencies and trainers who would like to attend are encouraged to register quickly to ensure space is available in desired courses. Attendance is capped at 140 participants and sells out quickly each year. Course descriptions and registration info can be found at www.actiontarget.com/LETC.
Action Target Inc. is a privately owned business headquartered in Provo, Utah. As a world leader in shooting range technology with more than 4,000 products and 40 patents for the systems it designs and manufactures, Action Target has installed thousands of shooting ranges across the United States and in 40 other countries around the world. Action Target also designs systems and conducts firearms training for law enforcement and various military divisions. For more information on Action Target, visit www.ActionTarget.com. To learn more about Action Target products or to purchase items online, visit www.LETargets.com.