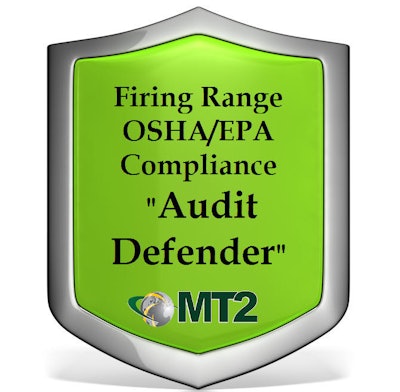 Because of the increase in visits to gun ranges by regulatory agencies such as the Environmental Protection Agency and Occupational Safety and Health Administration, MT2 is helping range owners proactively prepare their range for potential audits and issues to dramatically reduce the chance of, and liabilities resulting from, a negative investigation.
Range environmental cases and projects have shown that a typical OSHA/EPA regulatory fine is in the range of $250,000 to $500,000. Additionally, when the EPA has to step in, range cleanups with their oversight involved are in the $2,000,000 to $8,000,000 range. Law enforcement firing ranges often are cited for high lead levels.
"We are proud to serve and protect those in law enforcement and the military that serve and protect us," stated James Barthel, MT2 CEO.
The MT2 Range Compliance OSHA/EPA "Audit Defender" Consulting Package includes:
Onsite Industrial Hygiene Assessments: to better anticipate, recognize, evaluate, and control workplace conditions that may cause worker injury or illness.
Onsite Safety Audits: Mock OSHA audits will prepare a range for potential OSHA inspections in the future.
Safety and Health Program Review and Development: Developing site specific work rules, policies, plans, and procedures are the first step to achieving an effective safety and health program.
EPA RCRA Hazardous Waste Compliance: All ranges generate lead and possibly other metals-contaminated solid waste resulting from: routine operations, maintenance or renovation, and repair activities. Any lead-contaminated solid waste such as protective clothing, air filters, soil, backstop material, decon materials, or even building materials may be classified as RCRA hazardous waste.
The Senior Consultant on the MT2 "Audit Defender" Task Force has a Master's degree in Environmental and Occupational Health Sciences, is an expert in OSHA compliance assessments, and spent seven years as an Industrial Hygienist for the US DOL-OSHA. He is a Certified Industrial Hygienist & Certified Safety Professional and maintains memberships in: American Industrial Hygiene Association (AIHA), American Board of Industrial Hygiene (ABIH), and Board of Certified Safety Professionals (BCSP). His published work has been presented three times at the prestigious American Industrial Hygiene Conference and Exposition.
Over the past decade, MT2 has recycled over 10 million tons of lead, returning over $4 Million dollars to range owners without a single regulatory violation, while working closely with range owners to implement firing range Best Management Practices (BMPs). For more information visit www.mt2.com.