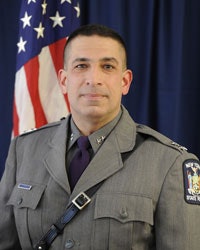 New York's top state police officer, Joseph A. D'Amico, has abruptly resigned, reports the New York Post.
D'Amico, 56, tendered his resignation as superintendent of the New York State Police to Gov. Andrew Cuomo on Friday morning, a source close to the matter said.
The three-decade veteran of law enforcement for the NYPD and in Albany had not been asked to resign, said the source, who declined to give further details.
D'Amico issued the following statement:
"I have been fortunate to serve the public in law enforcement for the past 35 years, both for New York City and the State, and it has been a tremendous honor and privilege to lead the men and women of the State Police. I thank Governor Cuomo and his administration for the opportunity to serve and lead the State Police through numerous challenges. I also want to thank the brave men and women of the State Police for their professionalism and service to the people of this great State. I look forward to pursuing other opportunities, but I will truly miss all of those I met along the way, including the members of the public who have always been supportive. I believe the past six years have seen the State Police grow in stature and capacity and I thank the Governor for his unwavering support."
In January, D'Amico came under fire for helping void a traffic ticket issued by a trooper to an NYPD officer who had struck a marked State Police van in Yonkers.
Before heading to Albany, D'Amico served 27 years with the NYPD, and was a deputy chief in 2007, when he was picked by then-state Attorney General Cuomo as his chief investigator.
While at the AG's office, D'Amico supervised 300 investigators, and was respected for his successful probes of State Police abuses under two previous governors, Eliot Spitzer and David Paterson.
As superintendent under Governor Cuomo since 2010, D'Amico beefed up the force, adding 2,500 new employees and bringing staff up to the current 5,700, including 4,700 officers.