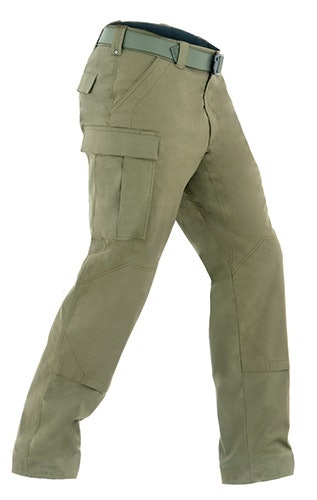 Quality uniforms and duty clothing are hard to come by in our line of work. If you go cheap, most often you'll know it as you're dropping a worn-out pair of pants into the trash only a few months after you bought them. That doesn't mean there aren't a few companies out there trying to buck the system. First Tactical is a relatively new company offering a solid line of duty-grade uniforms and utility clothing made to take a beating but not beat up your wallet. The company's Tactix BDU shirt and pants are a solid representation of its mission.
The first thing I noticed about both was the fabric weight and stitch quality. These are heavy-duty garments and the attention to detail is excellent. The critical seams receive triple stitching for maximum strength and the ripstop, mechanical stretch fabric allows for fantastic range of motion. It's also treated with a Teflon stain repellent finish to keep it looking sharp. YKK zippers and Prym snaps round out the list of high-quality finishes and prove First Tactical didn't cut any corners.
The shirt is what I would call a cross between a traditional uniform shirt and a military-style BDU blouse. It has a clean and crisp button-down collar and a zip-up front. The chest pockets have large flap enclosures and there's a hidden zippered pocket on the left side. All of this keeps the appearance very clean and professional without sacrificing functionality. The back yoke is vented for breathability and the torso is tapered for a tailored fit right off the rack.
The Tactix BDU pants were equally impressive. The waistband incorporates a stretch panel for flexibility and the rivet-reinforced belt loops keep your belt in place under extreme conditions. The cargo pockets are a bit higher than most I've worn; a welcome feature, as it keeps my gear within shorter reach and away from my knees. They also feature an internal organizer pocket for smaller items. Both the cargo and back pockets have flap closures for secure yet easy access. The knees contain integrated pockets for knee pads and there is a channel around the bottom cuff for paracord if you choose to blouse your pants.
Aside from the obvious quality and design, the thing that stood out most to me about the Tactix BDUs was their fit. I've noticed a trend over the years of uniforms and BDUs getting more and more baggy. I don't know if that's an unfortunate symptom of what poor physical shape we are in as a community, but I've had a hard time finding clothing that doesn't require a ton of tailoring to fit right. The Tactix BDUs have answered my prayers. Right off the rack they fit like a glove. If you're an athletic build and have the same gripe I do (and appreciate high-quality gear at a great price) the Tactix BDUs will make your day. Check out the company's full line at www.firsttactical.com.
Tactix BDU Pants
Concealed Flex Action waistband

Rivet-reinforced belt loops

Running gusset for unrestricted movement

External knee pad access

Multiple pockets

Two hidden hemline buttonholes for paracord to blouse pant leg (cord included)

52% polyester, 48% cotton blend

7-ounce two-way mechanical stretch, double ripstop fabric

Teflon stain repellent finish

YKK zippers

Prym snaps

Triple needle stitching at critical seams

Colors: Black, midnight navy, OD green

Price: $64.99
First Tactical Tactix Long Sleeve BDU Shirt
Hidden zip-front placket

Longer body with shirttails that stay tucked in

Active venting system in arched back yoke with soft-touch mesh

Running side gusset for maximum movement and articulation

Concealed button-down collar

Multiple pockets

External elbow pad pockets

Mic access at side seams

4.6-ounces 51% polyester, 49% cotton blend, mechanical stretch double ripstop

Teflon Shield+ stain repellent finish

YKK zipper

Industrial strength melamine buttons

Colors: Black, khaki, midnight navy, OD green

Price: $59.99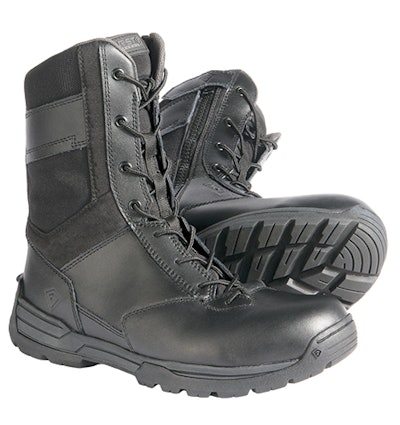 First Tactical 8-Inch Side Zip Duty Boot
We spend a ton of time on our feet and you can't put a price on a good pair of boots. Well, maybe you can. First Tactical is now in the duty boot game and its 8-inch side-zip duty boots are everything you need and nothing you don't for under 80 bucks.
These classic 8-inch duty boots are a mix of full-grain leather, PU-coated leather, and nylon with a robust YKK side zipper and a stitched rubber outsole. The toe is high quality and takes polish like a champ. No flimsy synthetic leather here. The laces are solid and thread through the tongue from the ankle up to keep it from sagging down. The nylon upper provides good ventilation and excellent ankle support and there's an elastic loop on the back that helps pull them on but stays flat so your pants don't get hung up.
The soles are full rubber that extends around to the outsole for excellent protection yet feel like a tennis shoe. There's no break-in required. These boots are a bit wider than the standard but that is a welcome feature to me as I have slightly wider feet and it allows for a variety of insoles or thicker socks.
Right out of the box these boots were surprisingly light and comfortable. Laced tight, the side zipper allowed me to get out of them with ease; a feature not found on all side-zip boots. Their clean, classic styling looks great with a uniform and I have no doubt they'll hold up for a long time of use and abuse. If you want a comfortable, classic pair of duty boots that won't kill your wallet, take a look at the line from First Tactical. Available in 6-inch or 8-inch heights and standard, safety toe or waterproof models, there's bound to be a pair that fits your needs. Pick up a pair at www.firsttactical.com
First Tactical 8" Side Zip Duty Boot
Full-grain leather toe

Stitched rubber outsole

Stay-flat pull loop

Torsionflex midfoot shank

Closed cell EVA midsole

Tongue lace pocket

Tight molded heel cup

Free forefoot fit

Upper: 45% full-grain leather, 20% PU covered leather, 35% synthetic

Height: 8 inches

Price: $79.99
A.J. George is a sergeant with the Scottsdale (AZ) Police Department assigned to the Technical Operations Unit, Special Investigations Section. He has more than a decade of law enforcement experience in patrol, field training, and traffic enforcement.