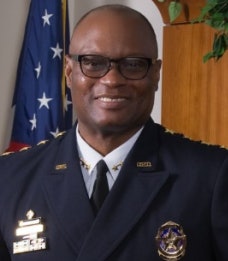 Dallas Police Chief David Brown announced his decision to retire Thursday, while on a golf trip with his wife in Austin, surprising many city leaders and his own staff, reports the Dallas Morning News.
He will step down from his role as top cop Oct. 22, his 56th birthday. But he won't publicly comment on his decision until Sept. 8, leaving many wondering what his plans are for his future.
"Serving the citizens of Dallas in this noble profession has been both a true honor and a humbling experience," Brown said in a written statement.
Brown has worked for the Dallas Police Department for 33 years and was appointed chief in 2010, making him the longest-serving police chief since 1960.
He gained national attention after a lone gunman ambushed police officers as a downtown protest was ending July 7. Five police officers were killed and nine others were injured.
Brown has been praised by elected officials, community leaders, and his own employees for how he handled the crisis. There was even a social media movement calling for him to be the next U.S. president. And he cameos in a Black Eyed Peas music video released Wednesday night.
Executive Assistant Chief David Pughes has been named interim police chief. City leaders will conduct a national search for Brown's permanent replacement.