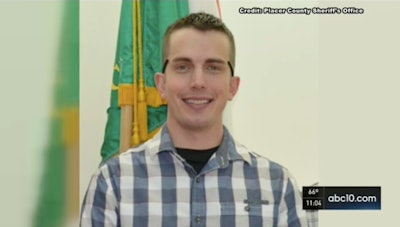 A Placer County (CA) Sheriff's deputy is in a coma after a freak accident during a training exercise.
According to the sheriff's office, on Wednesday, July 27, Placer County Sheriff's Deputy Austin Harper was on duty and assisting with K-9 training when he hit a steel support beam inside a vacant building with his head. He was knocked unconscious and was transported to a local trauma center with severe injuries. He underwent surgery to decrease the swelling in his brain. He is currently in a medically induced coma and is in critical, but stable condition.
Deputy Harper has been with the Placer County Sheriff's Office since December, 2015. Prior to working for PCSO, he served as a police officer with the town of Truckee and is a veteran of the United States Marine Corps. Harper is expecting his first child with his wife, who is also a police officer, ABC10 reports.