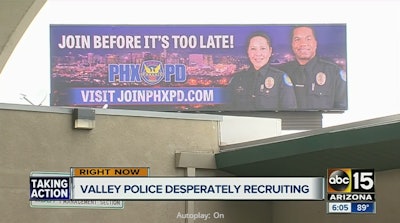 Law enforcement agencies in Arizona are facing a shortage of police officers. Many departments have hundreds of open positions listed.
"We are facing trying times, we are depleted of resources," said Maricopa County Sheriff Paul Penzone at a press conference held at the Phoenix branch of Northern Arizona University on Monday.
"We have a vacancy of about 385 right now, by next year we hope to have 400 spots filled," said Commander Brian Lee, a recruiting specialist with the Phoenix Police Department.
"Somewhere around 165 to 185 trooper positions for us, and about the same number of professional staff we're hiring," said Col. Frank Milstead with the Arizona Department of Public Safety.
A spokesman for the Maricopa County Sheriffs Office said they had 277 open positions for detention officers and 89 open positions for sworn officers or deputies, which brings the total to 366 vacancies.
The critical short staffing has led departments to streamline operations. In the last few months the Phoenix Police Department has completely re-structured operations. Dozens of detectives and officers have been pulled from "specialty" assignments and assigned back to patrol.
Years of budget cuts and a hiring freeze are being attributed for the shortfall that has been mounting over the years. Milstead said many agencies hired many officers in the 1980's. Most of those people are now retiring, which led to many open positions that they have been unable to fill, ABC 15 reports.