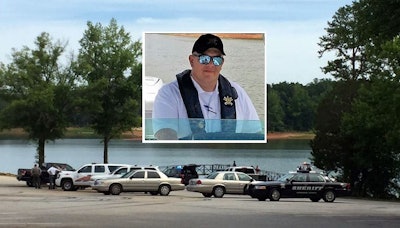 An Anderson County (SC) Sheriff's Office deputy was hit by a boat during a training exercise on Lake Hartwell Thursday morning and subsequently died from his injuries, the coroner said.
Deputy Devin Hodges, 30, and two other people from the Anderson County Sheriff's Office and the U.S. Army Corps of Engineers were on Lake Hartwell when they fell out of the boat, according to Department of Natural Resources Capt. Robert McCullough. Investigators have not yet said what caused them to fall from the boat, reports WYFF.
The driverless boat then circled back and struck Hodges, McCullough said.
A medical helicopter and ambulance were called just after 9:30 a.m. to a boat ramp in the Singing Pines recreation area on Lake Hartwell.
Dispatchers said the deputy was pulled from the water at about 9:45 a.m. and was treated by emergency management services.
Anderson County Chief Deputy Coroner Charlie Boseman said Hodges died in the emergency room.