For the third year in a row, POLICE Magazine and the National Shooting Sports Foundation (NSSF) are sponsoring special low-cost law enforcement training programs at this year's Shooting Hunting and Outdoor Trade (SHOT) Show.
The Law Enforcement Education Program (LEEP) at SHOT 2018 lets officers attend high-quality training sessions for $25. That fee allows any sworn officer in attendance at the SHOT Show (scheduled for Jan. 23–26 in Las Vegas) to take in as much LEEP training as they wish.
For an additional $89 officers can also attend a special pre-SHOT, all-day program on Jan. 22 titled "A Day of Critical Debriefs." Presented by the National Tactical Officers Association (NTOA), "A Day of Critical Debriefs" focuses on major law enforcement incidents and the lessons learned by patrol officers, SWAT teams, and commanders who were involved in those incidents. For more information, go to www.ntoa.org/ntoashot.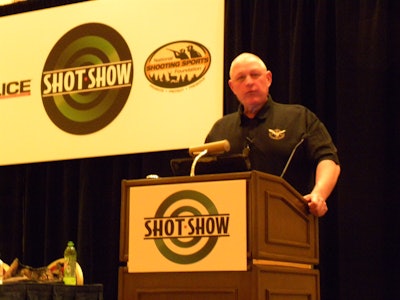 During SHOT Show, LEEP training is offered in two tracks: an NTOA track and a track of courses by manufacturers of police equipment and by experts.
Courses in the NTOA track include:
"Top Tactical Concepts for Law Enforcement Operations." Taught by David Pearson, this class focuses on patrol critical incidents and SWAT operations and covers 20 tactical concepts that should be understood by every officer, team member, team leader, and team commander.
"Active Shooter Update and the Advanced Police Officer." Taught by Don Alwes, this class looks at recent active shooter incidents and discusses lessons learned and law enforcement response.
"Law Enforcement Response to Suicidal Subjects." Taught by Thor Eells, this class is designed to educate law enforcement personnel on the legalities and challenges faced when responding to suicidal subjects. Case law examples are provided as talking points to assist in policy development and response decision-making.
"The Future of Tactical Patrol Operations." Taught by Ed Allen, this class examines what's being taught in law enforcement academies, changes in tactical response training, and steps agencies can take to improve their own training capabilities.
In the second LEEP track, experts will discuss law enforcement equipment and concepts. Sessions include:
"Reflex Sights: Adopting Reflex Sights for Duty Handguns." Sponsored by Trijicon and taught by Frank Martello, this course discusses how to use reflex sights on law enforcement handguns. Subjects covered include the benefits, cost, training, and policy concerns.
"Active Shooter: On and Off Duty." Sponsored by Eastern Beacon Industries, this session features a presentation of statistical data and covers tactics for on- and off-duty response.
"Blowback Laser Trainer." Sponsored by Blowback Laser Trainer and taught by Lou Krupin, this course looks at the Blowback Laser Trainer and discusses its benefits for law enforcement firearms instruction. The Blowback Laser Trainer is a non-firing training gun that features CO2-powered felt recoil and ejectable magazines. It has the same weight, look, and feel of a duty gun.
"Vehicle CQB with a Carbine." This session is sponsored by Daniel Defense and taught by Chase Jenkins of Talon Defense. The class covers case studies, vehicle ballistics, rifle security, carbine set up, and sling management. Tactics will also be discussed, including vehicle egress, use of cover, and unconventional shooting positions.
"Fitness and Diet Trends for LEOs." Sponsored by Reebok Duty and taught by Tier One Tactical Solutions, this session features discussions of officer health, exercise programs, and nutrition.
"Shooting Range Acoustics." Sponsored by Troy Acoustics and taught by Bill Bergiadis, this class discusses regulation of range noise, the effects of range noise on law enforcement personnel, and solutions for mitigating range noise.
For more information, go to http://shotshow.org/leep/.